Turbo Motorcycle International Owners Association

"Dedicated to the preservation of all turbocharged motorcycles"







---
Official Obituary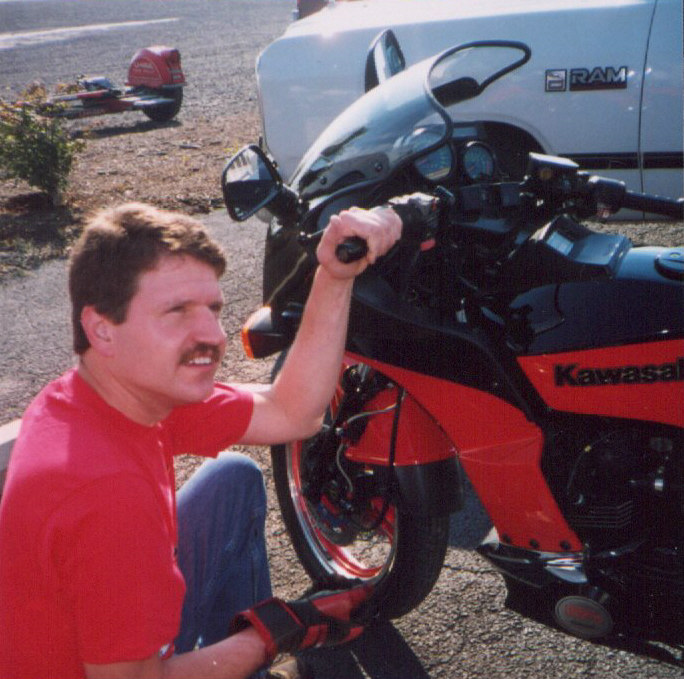 Mike Chestnut born January 14, 1964, passed to eternal rest May 3, 2016.

Michael Chestnut was born and raised in central Pennsylvania. His parents were Lee and Beverly Chestnut. His childhood years were spent in the country, and he loved to spend time down by the creek looking for reptiles to keep as pets. He graduated from Cumberland Valley High School in 1981.

After Honorable service in the Air Force Mike joined his parents and brother in Los Angeles, California.
Mike worked at American Airlines for 13 years as a mechanic. After he purchased a Kawasaki 750 Turbo he started a business focused on this particular motorcycle. He developed parts and procedures to increase the performance and helped hundreds of people around the world to modify and maintain the 750 Turbo for over 25 years.

In 1999 he quit his job at the airlines because his motorcycle business was growing, and decided to move to Tennessee where he purchased a house on the lake, and built his dream garage.

Mike had a love for pinball machines from his childhood, and when he built the garage he included a game room. After purchasing a few pinball machines, his mechanical talents led to repairs and modifications, and eventually full restorations of pinball machines. This business also grew, and flourished with hundreds more customers. Many were drawn to his high quality chrome and brass plating of the metal pieces and parts of the pinball machines. He was considered the best at pinball game restorations.

Mike's true passion continued to be time spent riding motorcycles throughout the USA. He met up with many friends and joined together on riding adventures throughout the countryside.
His focus was on Kawasaki motorcycles, and his mechanical talent and knowledge were showcased on the motorcycles he owned, and on the work he performed for others.
His passion ran so deep, that even suffering physical injuries and constant pain, did not deter him from riding time and time again. To ride was living life to the fullest for Mike.
To everyone who had the privilege to know Mike and benefit from his many talents, we were all enriched by his presence in our lives. He was a hard working man with integrity and attention to detail. Words alone cannot express all that he meant to his family, friends, and customers. May he rest in peace.

A Celebration of Life Service will be held Monday May 9, at Two o'clock in the afternoon at the Forest Lawn Funeral Home Chapel. Interment will follow in the Forest Lawn Memorial Gardens. The family will receive friends Monday from noon until the hour of the service at the funeral home.
- Forest Lawn Funeral Home
---
Unofficial Obituary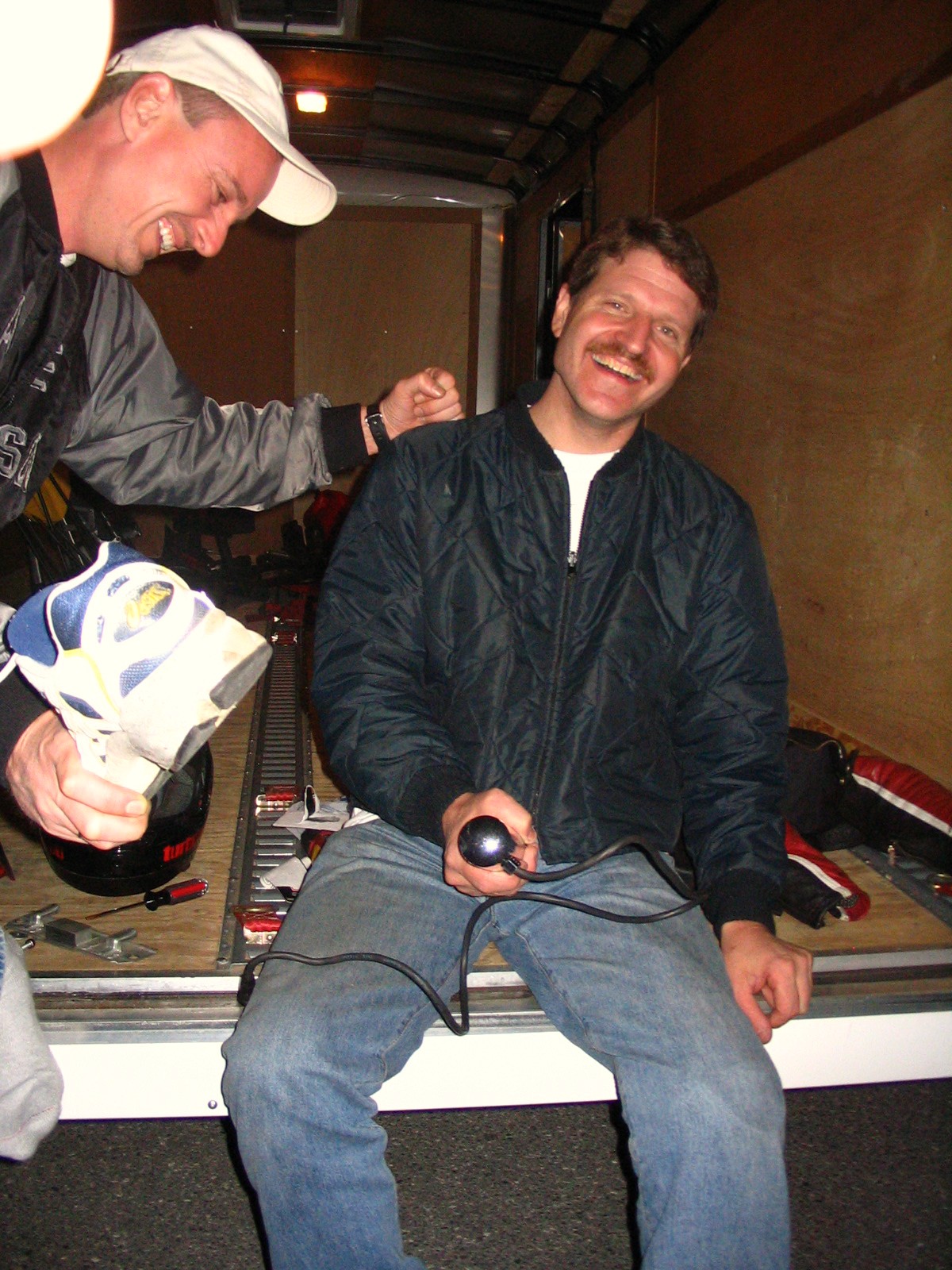 I've known Mike for over twenty years and during that time he was always willing to help fellow Turbo motorcycle riders. He was the center of attention at every Turbo Rally he attended and late into the night he would answer all the questions he was asked about the Kawasaki Gpz Turbo and solved most of them on the spot while telling outrageous stories about the exploits at his Los Angeles motorcycle shop.
He was the club's Kawasaki Turbo Guru and forgot more about the Gpz 750 Turbo than Kawasaki ever knew, but he never received the credit he deserved for being the foremost Kawasaki Turbo authority, especially from the jaded California motorcycle press. His influence in keeping Kawasaki Gpz Turbos on the road was worldwide.
His grit and determination and love of motorcycling and fellow Turbo riders was especially evident when he attended Turbo Rally XIII (2002) in Dahlonga, Georgia while confined to a wheelchair. He continued to ride his beloved Kawasaki Gpz Turbos tens of thousands of miles each year stopping only to add more horsepower (as only he knew how to do) when the younger guys in his local riding club bought bigger and faster bikes.
Best quote - When, at the first rest stop at Turbo Rally XVII (2005) in West Virginia, where the push button quick shifter on his bike was repeatedly burning through fuses, I asked him when it had quit working. "Right after we left the parking lot", was his reply. You wouldn't have known it because he wasn't having any trouble keeping up despite not being able to shift with his foot.
He will be sorely missed by anyone that ever had the privilege of meeting him and the world has lost one very special person. The kind they don't make enough of anymore. I give Mike my highest compliment – he was a real rider. Godspeed, Mike, Godspeed. If anyone had God's speed, it was you.
- Robert H. "Bob" Miller, Turbo Motorcycle International Owners Association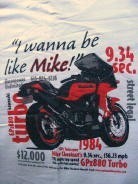 Everyone wanted to be like Mike
Home About/Contact Us Bikes Rallies Tech Help Merchandise Classifieds Newsletters Turbo People Photos Forum Links
© 2016 Turbo Motorcycle International Owners Association