| | | |
| --- | --- | --- |
| 1996 Rally V – The "Dutch" Rally | | |
When: June 7-9, 1996
Where: Staunton, Virginia
---
Turbo Rally V: Wet 'n Wild!
by Steve Klose
Turbo Rally V, i.e., The Rally in the Valley, Another Rally in the Valley, The Thrill in the Hills, Blowers in the Shenandoah (ouch!) was indeed all that - on Friday and Saturday. Sunday was another story. But let's talk about those other days! On Friday Bob Miller (Seca Turbo, PA), Ray Espinosa (BMW P to D, NJ) and myself took our usual scenic route through Pennsylvania, Maryland and a small part of West Virginia to get to Staunton. My Kawasaki Turbo, recently resurrected from the dead with a rebuilt turbocharger from Horsepower Unlimited (which I feverishly re-installed the day before), was my mount of choice. All giddy thoughts of taking my XN85 Junk Yard Beater (see Saved from the Junk Yard, Turbo News #18) to the event were dashed when the bike blew a stator one week before the Rally. It seems that the make of turbocharger isn't all the Suzukis share in common with the Hondas.
Keeping one bike length ahead of the rain all the way through Virginia our luck ran out about 35 miles north of Staunton. Little did we know that this would be a harbinger of things to come. Arriving at our destination about 7:30 that night drenched to our wastegates the parking lot of the Hotel was a sight to see! About 25 bikes, mostly Hondas, lined up neatly in a row did wonders to dry our spirits. As peculiar as wooden shoes were the ten bikes with orange oversized square license plates Ð Ah!, I thunk, those must be the bikes that belong to the folks from Holland (duh!). A couple of Seca and GPz Turbos were hiding in the back of the Hotel where I quickly unloaded my Kawi and checked in.
After renewing old acquaintances, meeting new members and enjoying a big juicy New York Cut steak (weren't those steaks delicious!) at the Hotel restaurant the real business of the Rally commenced - the Grand Turbo BS Session! And it lasted well past midnight! Split into a number of small groups everyone was enjoying each others accounts of owning, riding, racing and wrenching Turbos. Eventually the group migrated toward Guru Mike Chestnut of Horsepower Unlimited who entertained us with war stories about blowing the side covers off nitrous-burning GSXR1100s with his GPz 750 Turbo. How sweet it is!
After a heart attack breakfast special on Saturday (two eggs, sausage or bacon, home fries or grits, buttered toast or biscuit, what'll you have, hon?), it was gentlemen (and ladies), start your engines! and let the riding begin!
Day One's route was an interesting one with a stint on the famous Blue Ridge Parkway, a stop at Crow's Falls to snap some souvenir photos, followed but lots and lots and lots and lots and then a few more twisty roads through the mountains of Virginia and West (By God!) Virginia. Enough straights were thrown in so Mike Chestnut could demonstrate how to compress time on space on his Kawasaki 750 Turbo.
Mother Nature was smiling on us that day as we passed over a long stretch of wet roads on Route 250 headed back to Staunton, but never once did the moisture rain down on us Our luck would run out on Sunday, but not before Allen and Marilyn Lough's would run out later that day. After making the turn at Monterey, WV, onto Route 250 with his wife on the back of his Kawasaki 750 Turbo, our Rally organizer slowed to make a U-turn so those trailing the pack wouldn't blow past the intersection and miss the road returning to the Hotel. Only Allen didn't realize that his brother, riding a FZ750 Yamaha, was along side him. Fortunately they were traveling at a crawl when the impact occurred. Allen and his brother walked away with a few bumps and bruises but Marilyn suffered a broken fibia bone near the knee and a fractured pinkie. Thankfully she's now doing fine though obviously in some pain.
We gathered in the Hotel's banquet room that night to eat, drink, and acknowledge our guests from Holland for making such a remarkable journey to be with their turbros. Bob Miller presented them with special Rally-Edition T-shirts (yes, you can get one too, see page 27), and Ko Maljaars, president of the Honda First Turbo Club of Holland, presented Bob and Allen with First Honda Turbo sweatshirts. As the story goes, Honda first introduced their Turbo in Holland where the lucky buyers (there were 50 of them) were presented with limited-edition sweatshirts proclaiming them to be the first owners of these milestone motorcycles. The shirts Bob and Allen received were reproductions of that design.
Ko then revealed some ambitious plans of the Honda First Turbo Club when he invited Turbo owners from the TMIOA to be their guests at an international Turbo Rally in Europe next year. And thinking ahead, Ko made known his desire to have a Rally in Japan in the year 2000 to, as he put it, "ride through Tokyo and get back to our origins". You couldn't help but love this guy! If you're the kind of person who has the means and desire to take Ko up on any of these offers you can contact him.
After the presentations Mike Chestnut gave his much awaited Turbo Seminar and dazzled us all with his knowledge and understanding of motorcycles under high pressure. After the management gave us the bum's rush the session continued out in the parking lot. I have this theory on brain capacity. The theory is that your brain can only hold so much knowledge, and that when it gets overloaded with things like the gravity of fuel, turbo shaft length and its effect on compressor wheel speed, five-stage wastegates, optimal gearing for top speed versus torque, fuel injector opening durations, cam profiles, and friction welding, the front brakes in your brain seize and throw useful, everyday knowledge, like how to tie your shoes, over the topside and onto the asphalt. Later that night, brain overloaded, I tripped over my shoe laces on my way to my room. But I remembered the percentage of bearing speed to shaft speed in a turbocharger!
And then came Sunday.
The plan called for a spirited ride up the Skyline Drive from its beginning in Waynesboro to its end in Front Royal and then back down along 340 to Staunton.
The plan didn't call for heavy pea-soup (with croutons Ð you know, those big, soggy brown ones that come in cheap three-for-fifty-cents cans that your spinster aunt used to prepare for you when, restless in adolescence, you were forced to stay with her in the dog days of August because your parents got tired of their tight-rumped neighbors threatening to call the authorities because your garage science experiments were producing by-products that were killing their geraniums and causing Fluffy, their groin-licking, in-bred, one-eared feline to shed fur like a Long Island surgeon's wife who, when on her way to a dinner party in Scarsdale, is confronted by a gun-toting Betty White and knife-wielding Bob Barker) fog that made any kind of safe riding impossible.
And then the rain came. We're not talking about no Presbyterian Shower (to steal a line from the movie A River Runs Through It) but a real, honest-to-goodness Baptist Downpour! That caused many to take refuge back at the Host Inn and the others, who were planning to leave that day anyway, to seek lower ground and attempt to find a break in the clouds and ride under it on their way home.
Back at the ranch, Bob Lux, Renska (didn't get her last name)from Holland and myself were involved in a photo shoot with writer/photographer David Walsh (MD) who was on assignment for the British publication BIKE Magazine. We returned to the hotel after the morning shoot when the deluge found us and caused the cancellation of any riding plans for that day. Bob, Ray and myself decided to twist our intestines instead of the roads and spent most of the afternoon at a Mexican restaurant in Staunton (burritos and grits, wow!).
A second attempt on the Skyline was made Monday with the same results. This time we three cabelleros (boy, that Mexican food stays with you a long time!) were joined by Don and Pat Robertson (MI) who were staying at a nearby campsite. At a gas station at the foot of the Skyline I reached out through the fog (Is that you, Bob?) and found the hands of Bob, Don and Pat and wished them the best as Ray and I headed down to Route 340 and started our trek back to the Garden State. A third of the way to Front Royal we noticed a break in the clouds and turned east on Route 33 through Elkton on a third attempt to ride the Skyline. Most of the fog had lifted, the rain slowed to a drizzle and we had a pleasant 15-mile trip before unwisely making a rest stop at Great Meadows. There the rain and fog found us again and it was a soggy 52-mile ride to historic Front Royal.
While wringing-out our gloves and refueling at Front Royal the rain stopped as if someone had just turned off a switch. The rest of the day was one fabulous ride, Ray's battery failure aside, as we etched a wide, sweeping, twisty arc well out of reach of the Baltimore/D.C./Philadelphia traffic tentacles back to our homes in Northeastern NJ. During the almost 500-mile trip (only took 418 to get down to Staunton, that's how much fun we were having) I found my self totally relaxed and unfatigued. The temperature never broke 80 degrees and the sprinkle of rain we encountered was nothing to speak of. Only nightfall in New Jersey brought a drop in spirits, but probably because I knew the trip would soon be over.
So, all's well that ends well Ð I guess. Still, I'd really like to have that Sunday back, only with golden sunshine. Maybe next year.
To all the friends I had the pleasure of meeting, to all those friends I became reacquainted with, and to all those friends I never got around to really talking with, thank you for making it to the Rally. You people made it happen, and I invite you all to join us next year, wherever that may be (hopefully more than one place). And a special "danke" to our friends from the Netherlands. They're quite a dedicated group of enthusiasts. But then again I guess you'd have to be very dedicated to endure a $70 oil change (albeit with Mobil 1 oil). And to all club members - don't forget to drop the Loughs a line and wish Marilyn a speedy recovery.
I know the threat of rain kept many of you away (over 60 were expected, approximately 40 showed). We can guarantee a good time but unfortunately we can't do the same for the weather. If you watched the Weather Channel you knew that the low pressure area over the South hung around longer than Thanksgiving leftovers. The pattern was very unusual, but it did allow us to get in one, gorgeous riding day and half a day on Monday for those who stayed that long. But, hey! It was still our biggest Rally ever and next year it will be even better.
How about a Thrills in the Catskills or maybe a Turbo Jockies in the Rockies?
Count me in!
If you have any photos or other information related to 1996 Rally V we would be very interested in hearing from you. Please contact Webmaster, Colin Goodall with any information you may have.
---

A Different View - The Turbo Rally (From The Back Seat)
by Cyndi Durrstein

From the very start I had reservations about going to the Turbo Rally. I was dealing with the combination of both concern and guilt feelings at rather I should attend. First; I was concerned that since my knowledge of turbos ended with "Boy they sure are fast" that I would have trouble fitting
in at a rally that was specifically designed for the "Turbo Enthusiast." Second; I was feeling pretty guilty that we had to attend this "TURBO" rally on a non-TURBO motorcycle. Just a couple weeks before the Turbo Rally my husband Bob and I had attended a rally in Marble Hill, MO. To which Bob let me drive his newly purchased XJ650LK Yamaha Turbo. When we returned home from MO the Turbo was not working at all. This led to Bob having to send the turbocharger away for repair just days before the Turbo Rally.
Although Bob assured me that I had nothing to do with the breaking of the turbo, I still felt terribly guilty. Because I lacked knowledge and was feeling guilty, I had pretty much decided my best bet was to stay home. After all, this would prevent me from dealing with such emotional distress. Bob, on the other hand had other plans for me. Bob explained, that going to the rally would be a great opportunity for me to learn more about the Turbo, and a great opportunity to make some new friends. Bob also convinced me that the break in his Turbo was not my fault.
With that all behind us, we set out toward Staunton, VA. Now with no Turbo. Bob and I are attending this "Turbo Rally" on Bob's GS1100G Suzuki. You have to see this bike to believe it. First; it doesn't look like much, and you can be sure that the last time it had a bath is when we ran through the rain coming home from the last rally we attended. Plus this bike is so strong and reliable that Bob refers to it as his mule "Pepe." Now we won't be camping, so we need only to take some clothing and toiletry items. However, with only those few things, the combination of Bob, me and our gear puts us at or over the recommended weight allowance for such a bike. Still, we're loaded up and headed to Virginia.
The ride to the rally was nice. Everything was lush and beautiful, and made me very glad about changing my mind about going. Bob and I arrived in what seemed to be no time at all. Our room was nice and clean, and there was a pool should we desire to go swimming. After freshening up, Bob and I went down to the Motel Restaurant to have our first one on one with our fellow Turboists. Needless to say, I did not fit in. I did try hard to pay attention to the workings of a Turbo, but I became bored and started day dreaming about shopping at Wal-Mart. I also noticed that Turbo riders were a lot like fisherman. Their rides get wilder and faster, just like the fish get bigger with each time the story is told. I can believe that most of these Turboists have well exceeded the speed limit, but some of their
tales made Moby Dick seem like a minnow.
Fortunately, my loving and merciful husband saw that I was beginning to fade into the east, and suggested that I return to our room and get some rest. I would have fell to my knees and kissed his shoes right then and there, but I was trying to make a good impression. So, now I'm sitting in our room, and I start reflecting on my feelings that were haunting me before we left home. I am also wishing that I had brought a book, but the Motel has cable TV and I found an old classic movie to keep me company. Periodically, Bob would come up to the room to use the bathroom, or to get the camera. He even gave me a kiss on his way out to talk more "TURBO." I no longer feel guilty, but I now feel like a third wheel. I finally fell asleep to be awaken by Bob coming in for the night. I then had trouble getting back to sleep and when I got back to sleep, it was time to get up. Bob was up and ready to go before most of the others had even got out of bed.
Bob's excitement was that of a child on Christmas morning. We went downstairs to take a look at all the Turbo bikes. What a sight to behold. All these really nice, really fast, Turbo bikes lined up like soldiers ready for the battle, and in the midst of this beautiful machinery, there's Pepe, Bob's Mule. I found myself standing on the sidewalk staring at the contrast. It was almost like Conan the Barbarian standing in the middle of well polished British soldiers. We found out that a ride down the Blue Ridge Parkway was planned. I for one, love the Blue Ridge Parkway.
So now, I'm beginning to really become pleased with my attendance at the Rally. At least until Bob and I went to the Restaurant for breakfast. I had forgotten about the "Big Fish" stories. Or should I say "Wild Ride Story" until I was painfully reminded by such a tale that I really thought my ears were going to fall off. I was truly grateful when the time came for our planned ride. Now being that we were attending a "TURBO" rally, I surmised that the real purpose of this ride is to see just how fast these Turbo Riders can take hair pin turns. Great fun, great speed, great courage, great endurance, and "Great Scot, Batman!" I must admit, to be able to ride my own bike would have been great. However I was quite satisfied with riding a duet with Bob.
The beginning was nice. A calm mildly twisty road that ran down the scenic Blue Ridge Parkway. The speed limit from my view, was being well observed. So much so that I was beginning to think these Turbo Riders were a bunch of "Sissies." The agonizingly-slow riding Mike Chestnut, CA (hands on hips) and the equally lethargic Allen Lough (to his left), both riding Kawasaki GPz750 Turbos, conspire on just how to stay ahead of ancient GS1100 rider Bob Durrstein (the smug guy in the suspenders).
Our first stop, was a nature stretch of the legs at a road side park. The park offered beautiful scenery that included wild flowers, lush green trees, fragrant bushes and one of nature's most perfect waterfalls. A great choice for a stop. We are then told that some of riders need to get fuel. We then take a quick ride down the road a couple miles to a gas station/general store. The next stop will be lunch. Ladies and gentleman to your bikes. We now embark on a road that can only be described as "God's gift to Turbo Bikers" Bob and I started about half way back in the group, but Bob, not being a patient man, began making his way to the front. As our speed increased, I found myself becoming more and more excited.
Before I knew it we were third in line, behind Mike Chestnut (motorcycle racer) and another man who drove this road on a regular basis. Each curve gave way to another, allowing only for
continuous "open throttle fun!" Although "Pepe" doesn't look like much, and the speedometer
only goes up to 85 mph, I knew we were flying with the "Big Boys" that day. As we drove through each curve, I found myself day dreaming about being a great "Super Bike Racer" like Duhamel or Polan. All this, and I was only a passenger.
In the blink of an eye we were parked in front of the local Mom and Pop eatery. I couldn't help but march up to the door with great pride. I felt a really "big fish story" bubbling from inside of me. All I needed was an audience. As soon as we took a table I found myself face to face with the fella who held second place during our ride. I began my "big fish story" with the usual, "Boy, what a ride." I then proceeded to tell this guy of how we could have taken him at any moment, but that we did not want to hurt his feelings. I further added that we had done better on the roads that are near our home. (That is not exactly the truth). Oh my God! I have become a not so honest to goodness "TURBO-IST."
I have to be quite honest and say I was rather ashamed of myself. However, for that moment I was going to do my best to outdo any story that would be brought up during our lunch. Alas, my pain medication had run out of steam and I was in great need for a place to lay down. Bob and I opted to return to the motel instead of continuing on with the rest of the group. On the way back we stopped at my favorite hangout, "Wal-Mart". While we were in the store it rained, but when we came out it had stopped. We
returned to the motel and enjoyed a dip in the pool before we took a nap.
We later found out the rest of the group had run into a downpour. I started to feel a little cocky again, an almost "I told you so!" attitude. Dinner was great, and the fellowship and camaraderie made me so very happy to be in the room with all these special people. I had trouble remembering why I didn't want to go in the first place. The last night with our newly made friends was pleasant and yet was heart breaking, because I knew it would be another year before we would be able to see them again. I guess I was accepted, sarcasm and all. This made saying "so long" even harder. I was surprised that I wasn't tarred and feathered for having the attitude I had. I guess that goes to show you, The Turbo Gang is a great bunch of people. " I can't wait until next year!"
---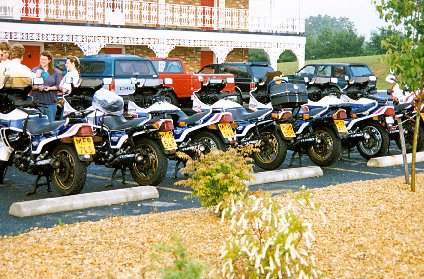 Dutch Honda Turbos and their Euro license plates
---
Home About/Contact Us Bikes Rallies Tech Help Merchandise Classifieds Newsletters Turbo People Photos Forum Links

Disclaimer
© Turbo Motorcycle International Owners Association