| | | |
| --- | --- | --- |
| 1996 Rally VI – The "Sooner" Rally | | |
---
When: October 12-14, 1996
Where: Oklahoma City, Oklahoma
---
Rally in the Sky
TURBO RALLY VI • OCTOBER 12 - 14, 1996
OKLAHOMA CITY, OKLAHOMA
by Charles Flender
Saturday we all arrived at the hotel. We spent the afternoon kicking tires and sharing war stories before all going out to dinner that evening. Rick Coder and his fiance Marie came up from Houston, Texas, while Jerry Settle and his wife Charlotte came all the way from Tennessee. Sunday morning
we all got up early and the group was ready to get started.
After a filling breakfast the leathers were put on, and the bikes were warmed up. The weather was a perfect 84 degrees with not a cloud in the sky. It would be an hour or so down Interstate 44 to Mt. Scott. After letting the bikes warm up we took off for the mountain. The ride down the highway with a speed limit of 75mph gave us a chance to run our bikes, and get the carbon out of the tail pipes. Typical of Oklahoma are the strong winds that blow consistently. The strong winds definitely kept us
focused on what we were doing. Once we exited the highway, we stopped for fuel and the restrooms. From there it was a short ride through the Wichita Wildlife Refuge to the base of Mt. Scott.
After seeing a herd of wild buffalo, not uncommon for the area, we came to the base of Mt. Scott. We the proceeded to climb the mountain very slowly. There is no room for error. If one has to dump your bike you had better do it in the middle of the road. There is no shoulder and large rocks everywhere. Once on top my wife, Kathryn, was waiting for us with ice cold drinks. We spent about 40
minutes up top looking around, checking out the view. While there a small plane flew by us. What was unusual was the plane was below us, not something you see everyday, even for Mt. Scott visitors. After riding done we headed for the town of Meers. The town of Meers is very small, in fact the picture of it
shows the entire town — yes, that's right, that's the entire town. The only reason it exists at all is their delicious Buffalo Burgers and home made ice cream. People come from all over to eat at this place. After that we headed back to OK City using the back roads instead of the highway. A few wrong turns, a pit stop for gas and verification we were on the right road, and some exciting curves we eventually worked our way back to OK City. It was a swell day of riding and we were all pretty tired so
after getting cleaned up we WALKED to a nearby restaurant for dinner. The group said there good-bye's and each headed off in their own direction. We will have another rally about the same time next year. I suspect the low turnout was due to a short suspense and misunderstanding about Oklahoma weather this time of year.
One interesting note, Rick Coder is not only the original owner of his CX5OOT, but has an impressive 91K miles plus on his machine, and it still looks dam good. Once a time and location are nailed down for the next Midwest rally we will post it, look for this information in the next issue of Turbo News. A special thanks to Steve and Robert for all your help in putting this one together. Look forward to seeing everyone in Ohio!
---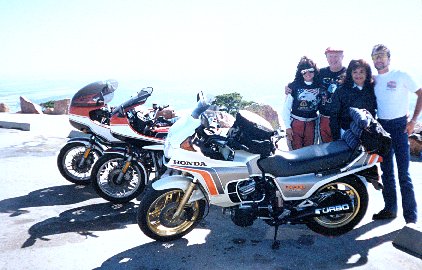 Jerry and Charlotte Settle (TN)on matching BMWs (Jerry's is turbocharged)
and Maria and Rick Coder (TX) on a Honda 500 Turbo. Photo by Charles Flender
---


Home About/Contact Us Bikes Rallies Tech Help Merchandise Classifieds Newsletters Turbo People Photos Forum Links

Disclaimer
© Turbo Motorcycle International Owners Association