| | | |
| --- | --- | --- |
| 1997 Rally VII – The "Mid-Ohio or Bust" Rally | | |
---
When: July 11-13, 1997
Where: Mid Ohio Sports Car Course, Ohio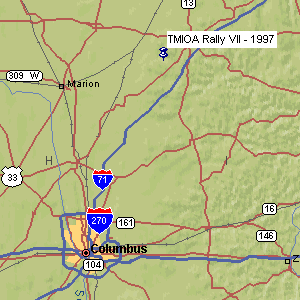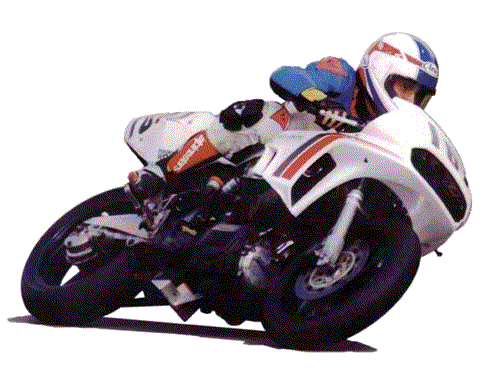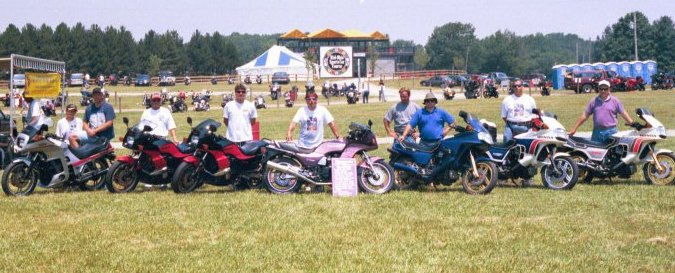 Sunday morning group photo before everyone heads for home
---

Turbo Rally VII - A Hot One!
by Steve Klose

Here was the deal: I was leaving for the Mid-Ohio Turbo Rally on Thursday, July 10 and expecting to return to New Jersey Monday, July 14. That's 530 miles each way on motorcycle. I would need five consecutive days of beautiful, sunny weather, preferably in the low 80¡ range, with low-humidity. I figured if I could at least had good weather how could I avoid having a great time? But what were the chances of having five days of a dry, sunny climate in Ohio, in the middle of July?
Pretty darn good as it turned out. Oh, it got around 90¡ on Sunday, the day I had to unexpectedly leave early, but in general I got what I had hoped for. About 40 other Turbo enthusiasts got the same thing, and many had to travel a lot farther to be there (see Boost Gauge, page 2). Mother Nature did her part. The rest was up to us.
It was hot (but not unbearably so), there were probably more Turbo bikes in one place than ever before, there were enthusiasts from as far away as Texas, Kansas, Georgia, California and Canada, it was a huge amalgamation of motorcycle racing, swap meet and sideshow, and IT was the Turbo Rally at Mid-Ohio, July 11-13. It was also the first time many of us got to see the elusive Z1RTC Turbo (see Turbo News #25 for a review of the ZR) thanks to the efforts of Mort Milne of PA. We had multiple Suzuki XN85 Turbos (2) on hand for the first time thanks to Don Harder of KS (ridden 990 miles to Ohio!) and Ken DeVelder of NY who reprised his appearance at Central, PA, two years ago. Our Texas couple, Rick and Maria Coder, rode two-up 1,150 miles from Houston to attend, and were still talking to each other after the ordeal. As amazing as any Turbo bike you'll ever see.
Our spot on the infield of the track was huge. We could have comfortably fit 80 motorcycles in our roped-off area. Turnout was impressive - over 40 riders and passengers and about 36 Turbos. Of course, all were not present at the trailer at the same time (to the chagrin of the avid photographers). There was plenty of room for the occasional 4-wheeled vehicle, too. Yam Turbo attendance was unusually low this year (2) and we're stumped as to the reason. Where are you guys? The monster GSXR1100 Turbo, of Cape's Performance in Warren, Ohio, reportedly turned over 300 hp on the dyno. The owner vowed to join the TMIOA. And yes, there was vintage racing going on all throughout the weekend. Some of it could even be viewed from the comfort of a lawn chair at the TMIOA trailer.
We dynoed (178 hp at the rear wheel for Steve Smith on his modified GPz750 Turbo), dined (Doc's was slow but we were in no rush), demoed (as in demo ride - all the manufacturer-s were there) and drag raced (my fault for letting Kent Flanery (KY) and Mike Chestnut (CA) lead the group ride to the AMA Museum on Saturday - what was I thinking?), and all in all had a dandy time at the track, TMIOA trailer, motel or wherever two or more Turbo bikes would meet.
The event wasn't all it could have been, at least for me, because at the last minute TMIOA President Bob Miller had to cancel due to personal matters. I found out he wouldn't be attending the night before we were due to rendezvous in the middle of Pennsylvania. I also found out at that time that I would be handling all the responsibilities at the Rally. Now, IÕm not much of an organizer (and I've got the closet to prove it) but I gathered myself and with the help of e-mail from Bob (and an hour-long phone conversation the first night of the Rally) I set out to Òdo the best I could. That's usually a term for an excuse for doing a mediocre job so I apologize if anybody's experience at Mid-Ohio didn't measure up to their expectations.
But speaking on behalf of myself (what exactly do we mean by "on behalf of one's self?" Is this less than on whole of one's self, or full of one's self?) I believe things went well enough for my inexperience to go unnoticed by most of the Rally goers. All that beer Saturday night probably helped in this regard, too.
Yes, we had our annual Turbo Rally stator failure Ð hope you got home alright Anton. And our annual Turbo Rally stator failure false alarm Ð just a bad case of the low-voltage blues for Mr. Colin Goodall's royal-blue CX500 Turbo. But except for the gremlins in Bob Durrstein's Yamaha XJ650 Turbo's fuel delivery system (which, by the way, he found out was most likely due to a rusty fuel tank) there were no unpleasant mechanical, electrical or spiritual surprises to be found. Not bad for a bunch of 12 to 15 year-old sleds that most moto-mags were sure would be relegated to the scrap heap long ago.
The Rally brought Turbo enthusiasts together from New York, New Jersey, Pennsylvania, Ohio, Michigan, California,Delaware, Virginia, North Carolina, Georgia, Texas, Kansas, Maryland, Tennessee, Kentucky, Illinois and Canada. If you
attended the Rally and your state was not mentioned let me know. I tried to meet as many of you as I could but couldn't spend all my time at the trailer. Thanks to all the new members who joined, and those that renewed their membership in Ohio.
Once again I can't thank Mort Milne (PA) enough for providing us with that wonderful trailer with its huge sun-blocking awning that served as our oasis from the heat at the racetrack. Thanks to Steve Smith (PA) for organizing the Concours 'd Turbo show and for bringing his gorgeous Purple Passion GPz750 Turbo. And thanks to all those who lent a hand setting up and taking down the trailer and just being generally helpful and pleasant. You made it all worthwhile. And of course a special thanks to Bob Miller, without whom none of this would have been possible. Have a great summer.

Concours d'Turbo Winners:
Best stock Kawasaki GPz750 Turbo - Rick Kearns (OH)
Best stock Yamaha XJ650 Turbo - Bob Durrstein (OH)
Best stock Honda CX650 Turbo - Chris Reed (DE)
Best stock Suzuki XN85 Turbo - Ken DeVelder (NY)
Best stock Honda CX500 Turbo - unknown, but had a MI license that read WHOOSH!
People's Choice Award - Mort Milne (PA), Z1RTC Turbo
Best in Show - Steve Smith (PA), Kawasaki GPz750 Turbo
Highest-mileage Turbo: Rick Coder (TX), 93,800 miles.
Furthest distance two-up on Turbo - Rick and Maria Coder (TX), 1,150 miles.
Furthest distance solo on Turbo - Don Harder (KS), 990 miles.
Furthest distance to attend Rally - Mike Chestnut (CA) of Horsepower Unlimited.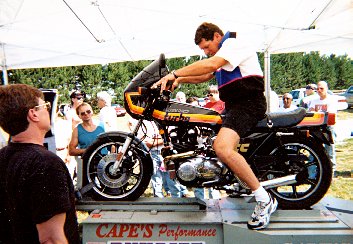 Mort Milne (PA) watching his Z1RTC get dynoed
---
Home About/Contact Us Bikes Rallies Tech Help Merchandise Classifieds Newsletters Turbo People Photos Forum Links

Disclaimer
© Turbo Motorcycle International Owners Association