| | | |
| --- | --- | --- |
| 2002 Rally XIII – The "Sweet Georgia Blown" Rally | | |
---
Host: John Marrs ( johnmarrs@alltel.net )
When: June 14-16, 2002
Where: Dahlonega, Georgia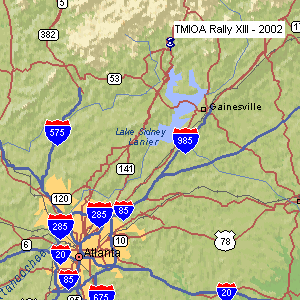 ---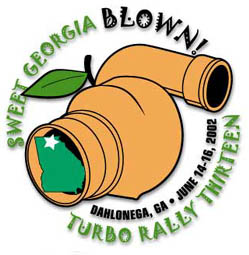 ---
TURBO RALLY XIII (2002) - GEORGIA ON MY MIND
by Robert H. Miller
Almost six months have passed since Turbo Rally XIII "Sweet Georgia Blown" and it still remains a very pleasant memory. From our host's southern hospitality (Thanks, John) to the area's curvaceous roads, to the friendly local residents and business owners, it was a great experience. A willing host, a mountainous locale, and a tourist-oriented community all contribute to a pleasant rally experience, but it's the companionship and camaraderie of fellow attendees that keep the members coming back for more.
On Thursday before the rally weekend I rode 400 miles from southwest Virginia to the rally location in Dahlonga, Georgia. Expecting almost no one at the Dahlonga Days Inn, I was pleasantly surprised to find thirteen Turbo enthusiasts had preceded me to rally headquarters. Before the weekend was out, twenty-five additional Turbo enthusiasts, including wives, girlfriends, an Englishman, a sister and a mother of one member would join this gathering of boost bike diehards.
From dawn to after midnight on Friday, the Turbo faithful found their way to rally headquarters. The rainy weather only served as an excuse to stay at the motel and tire kick the day and night away. The warmth of renewed friendships or the excitement of new acquaintances accompanied every additional arrival.
A few of the more notable attendees were Kaw Turbo Guru Mike Chestnut who was accompanied by his Horsepower Unlimited compatriot Roger Twito, longtime friend Brett Black, and Mike's mom Beverly (Mrs. Chestnut). Past TMIOA President Allen Lough and his lovely wife Marilyn; TMIOA's webmaster and native Canadian Colin Goodall, and Honda Turbo Specialist Dan Topping were there as well. Purple Passion creator Steve Smith; Mike Coty with his turbocharged and intercooled ZX750E Horsepower Unlimited masterpiece; and Mort Milne with his exquisite 1979 ZIR-TC also graced us with their presence. The Jersey Boys, who provide entertainment wherever they go, took a wrong turn somewhere around Virginia and didn't arrive until after midnight on Friday. These familiar faces weren't easy to find when mixed in with the many first time attendees.
Fresh faces included ZX750E drag racer Lorcan Parnell who collected $200 from his fellow Englishmen for the Mike Chestnut Benefit Fund before boarding a plane for the trip across the Atlantic Ocean. Jim Weidinger (ZX750E) from Missouri, Red Gardner (CX500T with optional gas tank-mounted Jack Russell Terrier) from Seneca, South Carolina, Bob McQuage (Turbo Hayabusa) from Mississippi, and Marc Wittibslager (XJ650L) from Minnesota. Local rider and minister Lester Bruce (Ford Pickup Truck) from Dawsonville, Georgia happened onto the rally by chance, later returned with his trailered ZX750E for an impromptu Horsepower Unlimited parking lot tune-up and then reappeared on Saturday morning aboard his Kaw Turbo in time to perform a ride blessing.
That morning, the level of anticipatory excitement exceeded its boiling point as the local sheriff followed a unicycling Turbo bike and its rider into the Days Inn parking lot for a little "reading of the riot act". As we lined up dozens of factory Turbos and a Turbo Hayabusa for a commemorative photo opportunity the offender avoided any nasty points or fines by quietly blending into the sea of Turbos.
John Marrs had laid out a 200-mile ride through the best parts of northeast Georgia and southwest North Carolina with a lunch stop in Franklin, North Carolina. At B&D's Restaurant waitresses with sweet southern drawls made certain you didn't leave hungry or thirsty. The morning ride took us over Wolf Pen Gap where overlooks yielded spectacular views of 5000-foot mountain peaks jutting up by the dozen between you and the horizon. This was followed by a ride past Chatuge Dam and on through Nantahala Wilderness Area. At a pull-off atop one of those mountains, with one eye on Red Gardner's gazetteer and the other eye on that Jack Russell's jaws, I spied a mightily twisty bit off NC Route 28. War Woman Road was 3 miles of second gear back to back esses followed by 12 miles of sweeping curves. Yee-haw!
The afternoon route featured the picturesque tourist town of Highlands, North Carolina, Lake Burton, and the totally tourist town of Helen, Georgia. The "piece de resistance" was dinner at Suchees' Two Wheels Only Campground and Restaurant tucked away high in the mountains outside Dahlonga where more southern-style vittles and sweetened iced tea were consumed in massive quantities.
The Saturday night tire kicking session was notably subdued as the days events were rehashed, reanalyzed, and re-enjoyed several times over. Sunday morning departees, myself included, said their good-byes and more than a few trailers were loaded that evening. It had been a thoroughly enjoyable weekend of Turbo riding, Turbo gawking, and Turbo talking highlighted by the lack of major mishaps, the numbers of new members joining our ranks, and the sale of every club tee shirt (the main TMIOA fundraiser) I had shipped to the rally location.
The ride home was as special as the ride to the rally as I covered the best roads in western North Carolina, southwest Virginia, and West Virginia on my way to the Eastern Region CBX rally in Marlinton, West Virginia. This perfectly complimented my ride to Georgia via U.S. Route 340 through the Shenandoah Valley, 423 miles of the Blue Ridge Parkway, and my personal favorite North Carolina road NC 215. News of next year's rally should accompany this issue of Turbo News and be preceded by details on the web site so now is the time to mark your calendars. As always, ride safe and ride smart and when you can't be riding enjoy reading your Turbo News.

RALLY ATTENDEES: John Altom (TN); Brett Black (TN); Bill Brint (GA), Ron Bussey (TN); Lester Bruce (GA); Mike Chestnut (TN); Matt Congemi (MO); Mike Coty (KS); Bill Ey (MD); John Ey (MD); Gary Fania (NJ); Red Gardner (SC); Steve Haft (FL Jersey Boy); Allen Lough (VA); John Marrs (GA); Bob McQuage (MS); Robert Miller (PA); Mort Milne (PA); Chris Morgan (TX); Danton O'Neill (Jersey Boy); Lorcan Parnall (ENGLAND); Dennis Raiford (FL); Steve Smith (PA); Dan Topping (GA); Roger Twito (TN); Matt Venezia (Jersey Boy); Dan Weidinger (MO), and Marc Wittibslager (MN).

RALLY RIDES: 4-CX500TCs; 1-CX650TD; 18-ZX750Es; 2-ZIRTCs; 3-Seca Turbos; 1-Suzuki Hayabusa Turbo; and 1-Kawasaki ZXR1100.

RALLY AWARDS: Best CX500TC – Colin Goodall; Best CX650TD – Dan Topping;
Best ZX750E – Brett Black; Best Suzuki – Bob McQuage; Best Yamaha Turbo – Marc Wittibslager.

RALLY CERTIFICATES: Longest Distance Ridden to Event Solo – Colin Goodall, Longest Distance Ridden to Event Two Up – Lester and Carolyn Bruce; Longest Distance to Event – Lorcan Parnell; Longest Distance Trailered to Event – Chris Morgan; Shortest Distance Trailered to Event – Lester Bruce; and Longest Ownership Experience – John Marrs.
---
Rally XIII in Review
Here's the traditional group shot of all the bikes at the rally taken Saturday morning before the big ride. (Click on the photo's for a larger version!)
---
Over the past few years the word has gotten out about what a good idea it is to stay for the whole rally, not just Saturday's ride. Thursday night saw a good deal of the participants rolling into the hotel.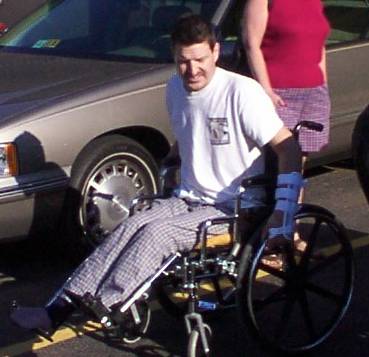 The most notable early arrival being that of Mike Chestnut. He had only been released from the hospital a few weeks before but was helped by an entourage of friends and family (including his mother) to make it to the rally.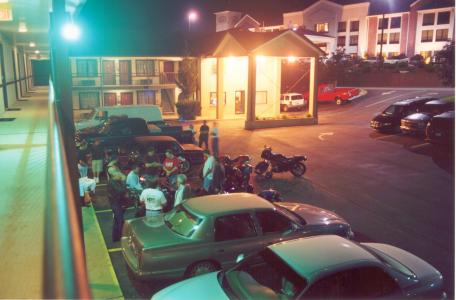 And he did not arrive empty handed. Mike made sure he brought lots of GPZ goodies with him just in case. This turned out to be a good call, a large local boy by the name of Lester Bruce wandered by. Turns out he had a GPZ 750 that had recently stopped running. By Friday night Mike was sitting in the middle of the parking lot while directing Roger Twito (among others) to "repair" the two GPZ's. (And of course he got them both working!)
---
The weather had been hot and humid for the entire week leading up to the rally. But on Friday Mother Nature co-operated with the arrival of a cold front and rain. This resulted in Saturday morning arriving with clear skies and comfortable cool temperatures. (The best riding weather at any Turbo Rally I have ever attended! Ed.)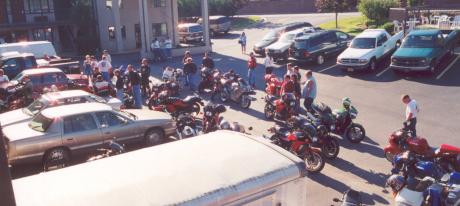 The morning riders meeting went well. (Apparently the local law enforcement had wandered by late Friday night and read the group the riot act after someone had apparently pulled a wheelie in the town square. They were in no mood for this type of behavior and made that fact quite clear.) We were notified of this and told to behave, which of course we all did.

After the group photo the riders led off on a wonderful route laid out by rally host John Marrs. Within 10 minutes of leaving the hotel we were into twisty mountain roads and switchbacks. After a couple of hours on the road we stopped to regroup and discuss the run so far.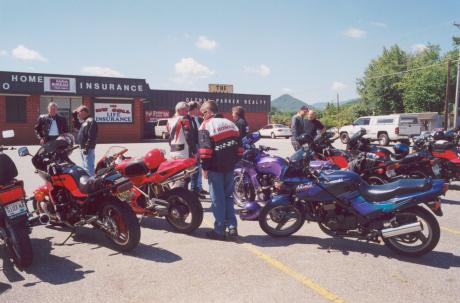 The second half of the morning leg was spent blitzing across the bottom of North Carolina and a lovely wide smooth divided highway. These "Wide Open Spaces" provided the group with a chance to stretch the throttle cables a bit.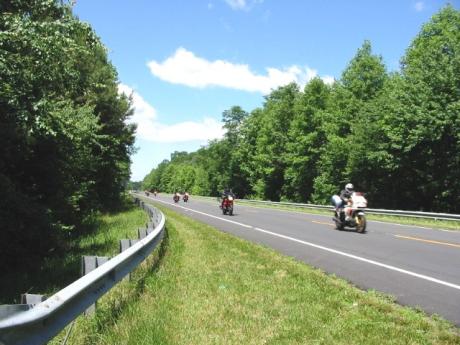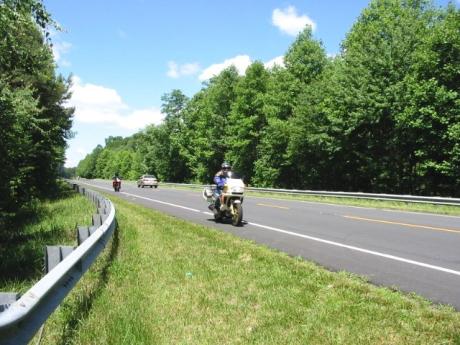 All parties arrived safe and sound for lunch in Franklin, North Carolina. (However, some had problems with the directions and arrived a little later than others. Well at least he didn't crash this year!)
After lunch we took off down a lovely scenic route that was clogged with traffic but provided ample photo opportunities. The road followed a river up a narrow valley resulting in some magnificent water falls. Including a convenient drive through version.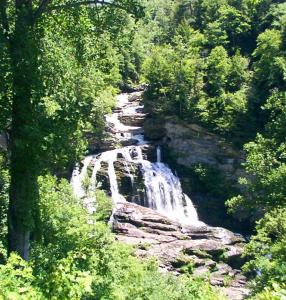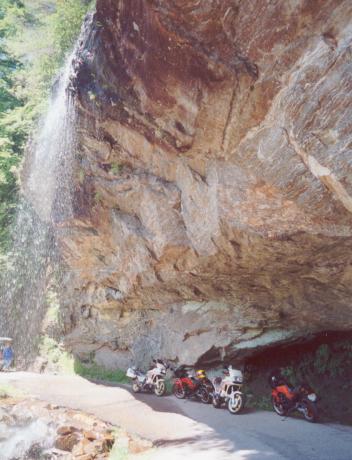 On the way back Chris Morgan from Texas had been riding with yours truly (Colin Goodall) when the only accident of the rally occurred. Coming into a somewhat tight corner Chris slid out on some gravel and went into the grass at the side of the road. Fortunately our speed was fairly low at the time of the crash and Chris was wearing full leathers. So other then some good scrapes and bruising he came out OK. The bike has some road rash to the left side but was serviceable enough to ride. (In fact he road it another 60-90 miles before we got back to the hotel that night!)
After the incident we headed straight for TWO (Two Wheels Only), a campground about 20 minutes north of Dahlonega. Here we met up with the rest of the group and a great dinner. Entertainment was provided by Steve Smith after he was attacked by a two headed vibrator. (If you don't know what I'm talking about then it serves you right for missing the rally!)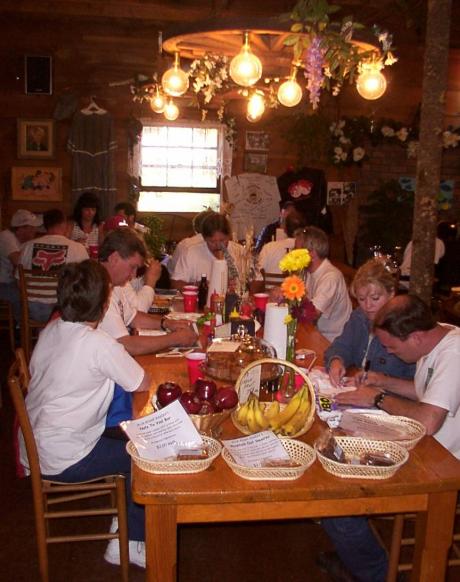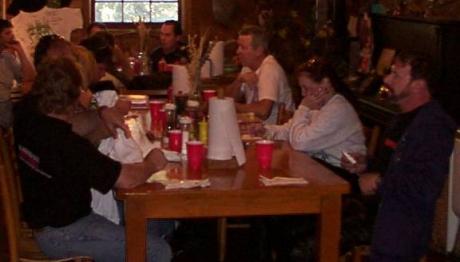 ---
Sunday morning we headed out to find some straight roads for some speed runs. We were thwarted by the fact that the group got split up halfway out. After waiting for a while the group headed out onto what was hoped to be a good road for the runs. But unfortunately there just was not enough space to really get the bikes going. Steve S. was able to manage a measly 163 mph before having to back off for other traffic.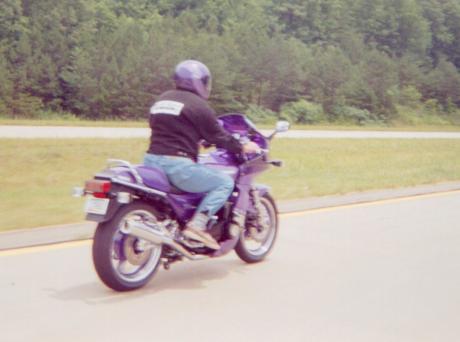 By Sunday night most of the people had taken off for home. But a small group remained and headed out to dinner. Highlights of the dinner include Mort Milne who just could not get a drink in the "dry" city of Dahlonega. (No matter how many times he asked!). We also learned the story behind dancing "Steve Turbo". (Again, see what you miss when you don't stay for the whole rally!)
---
Monday morning everyone headed for home. However I was lucky enough to be joined by John Marrs and Allen Lough for a great ride up to Franklin again for lunch. I continued on home while John and Allen had a great run over to Tellico Plains and back to Dahlonega.
---
Thanks to all those TMIOA members who traveled near and far to attend this years rally. Great weather and a relatively incident free ride combined with a great route made for a great rally.
I would especially like to thank John Marrs ( johnmarrs@alltel.net ) for his efforts in setting up this years rally. It would not have been this successful without his efforts.
Photo's seen on this page were donated by John L. Atom, Steve Smith and Colin Goodall.
---
Home About/Contact Us Bikes Rallies Tech Help Merchandise Classifieds Newsletters Turbo People Photos Forum Links

Disclaimer
© Turbo Motorcycle International Owners Association