Turbo Motorcycle International Owners Association




"Dedicated to the preservation of all turbocharged motorcycles"







Merchandise -
The Movie



---
TMIOA - The Movie: Honda CX500 Turbo and Yamaha Turbo TV Commercials, Kawasaki ZX750E Worldwide press introductions at Salzburgring, Austria and Fuji Speedway, Japan. The California Wheelie Wars were shot in front of Mike Chestnut's Horsepower Unlimited shop in Los Angeles. This impromptu Sunday morning showdown has Kawasaki Turbo after Kawasaki Turbo snapping their wastegates with their front wheels clawing the air through a usually quiet California neighborhood. Footage of the Yamaha Turbo from the Sly Stallone movie Cobra is also included.
This tape was converted from PAL to NTSC then burned to DVD so don't expect HD quality, but it's all there. Run Time: 15 minutes and 54 seconds.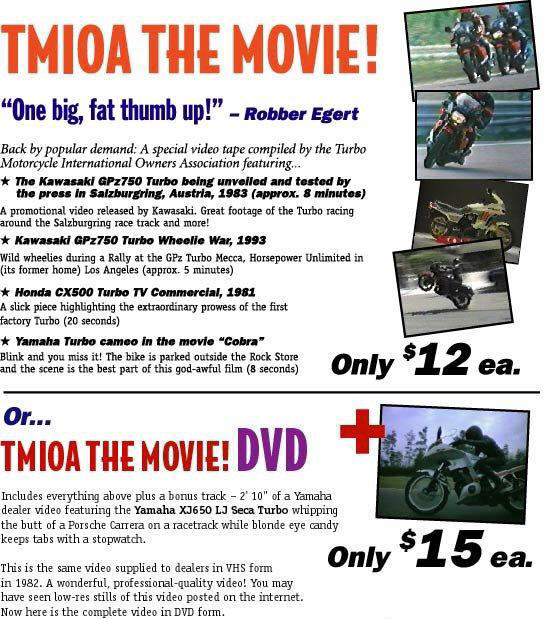 ---
VHS Video (tape) Factory Turbo Movie, Press Intro, and Wheelie Clips – Free (while supplies last)

DVD Factory Turbo Movie, Press Intro, Wheelie Clips - $15
---
Home About/Contact Us Bikes Rallies Tech Help Merchandise Classifieds Newsletters Turbo People Photos Forum Links Turbo Tee Shirts Gallery
© 2006-2023 Turbo Motorcycle International Owners Association