Turbo Motorcycle International Owners Association




"Dedicated to the preservation of all turbocharged motorcycles"







Merchandise -
Yamaha Track Tests
---
Yamaha Turbo and XZ550 Vision Track Tests DVD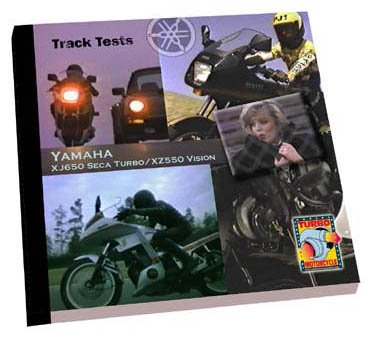 This is the promotional video supplied to dealers featuring 2 minutes and 10 seconds of the Yamaha Seca Turbo getting flogged on a damp test track - and lapping a Porsche Carrera no less! Complete with requisite blond bombshell (a very young Michelle Pfeiffer) in full-length fur working a stopwatch. A slick piece indeed.
Also in the DVD...
Kenny Roberts wringing the neck of an XZ550 Vision on a desert racetrack. Lots of footage of King Kenny bending effortlessly into turns. A bonus babe sweats it out keeping tabs on Mr. Roberts. But wait, that's not all... a slide show of Yamaha accessories and products circa 1982. Yamaha's hottest bikes decked out in Reagan-era luggage and windscreens.

Run Time: 14 minutes and 2 seconds
---
Yamaha Turbo and Vision DVD - $15
---
Home About/Contact Us Bikes Rallies Tech Help Merchandise Classifieds Newsletters Turbo People Photos Forum Links Turbo Tee Shirts Gallery

Disclaimer

© 2006-2023 Turbo Motorcycle International Owners Association