| | | |
| --- | --- | --- |
| Turbo People - Horst die Wurstchen | | |
Horst is from Germany and he is at it again and apparently it will never stop. His highly modified 1984 Kawasaki ZX750E1 (Turbo) reveals him to be one of the most dedicated Kaw Turbo owners on the planet. The list of upgrades goes on and on. There's not much else you can do to a Kaw Turbo and still have it streetable. The 200! (as of 09/25/15 - up from 175) RWHP proves it. Hayabusas, ZX-14s, and S1000RRs beware! Latest mods are red-lettered.
Engine Mods:
- 810 Wiseco forged pistons (+3 mm = 69mm)
Intake ports +4 mm
- Race Mode *
- Copper head gasket with power rings (o-ringed)
-Bronze valve guides
- Internal oil passages decommissioned and replaced by the head outer lying Stahlflexleitungen
- Goodridge steel braided lines on the original oil cooler
- Dyna gray high-performance ignition coils 2.2 Ohm
- Injection bridge from 1100UT (+4 mm larger than original)
- Adjustable fuel pressure regulator
- Inlet ducts and Ansauggummis and air box adapted to the diameter (+4 mm)
- 350 cc / min injectors (270cc/min is original)
- Walbro fuel pump high GSL393
- * Power Commander PCIIIusb of ZX12R modified (instead of throttle position he now handles boost)
- Innovate Air / Fuel LC-1, heated oxygen sensor with display and SSI-4 box with data logging (speed / pressure / air-fuel) with digital AFR (Air Fuel Ratio) Display
- Fuel pressure indicator analogue, liquid filled
- Boost gauge, analog MC Express liquid filled
- Garrett GT2056 loader with a cylindrical K & N filter directly on the charger
- Modified airbox (plenum) completely welded all the connections and caste, as well as smaller / narrower again in 2012
- Large aluminum - with intercooler. 45mm pipes
- Adjustable boost controller, with upstream throttle valve from Festo
- Pop off valve aluminum red
- 2x Speed ​​Exhaust Products F1R
Engine Output:
2015 - 200 RWHP
2012 - 172 RWHP/114 ft.-lbs. torque



Suspension & Chassis Mods:
- f

ront fork complete with brakes, fender and wheel of a ZRX1100
- changed and modernized the chassis to 17" wheels
- 5 " rear wheel from ZX-6R in original Turbo swingarm

- a very rare rearset from Moto Italia
- rear brake and disk from a ZZR-600

- Michelin 2CT tires road 2 120/170



- Fork stabilizaton of core
- progressive fork springs by Wirth
- Superbike crown (Rommerskirchen)
- red aluminum SB-hand drive
- aluminum sprocket
- Magura throttle control
- Brembo cast iron discs
- Micron steel brake lines.




Bodywork Mods:
- Egli modified MRD-1 rear
- Alurasten
- Gimbel rear spoiler
- tinted MRA touring screen
- original spoiler modified for the generous clearance round the thick Lutfleitungen

- All polished aluminum hazard lights, turn signal lights at the front, rear lighting, turbocharger lighting
There's more at http://www.xn--wrstchens-turbokawa810-slc.de, http://www.750Turbo.com, and http://www.750Turbo.info.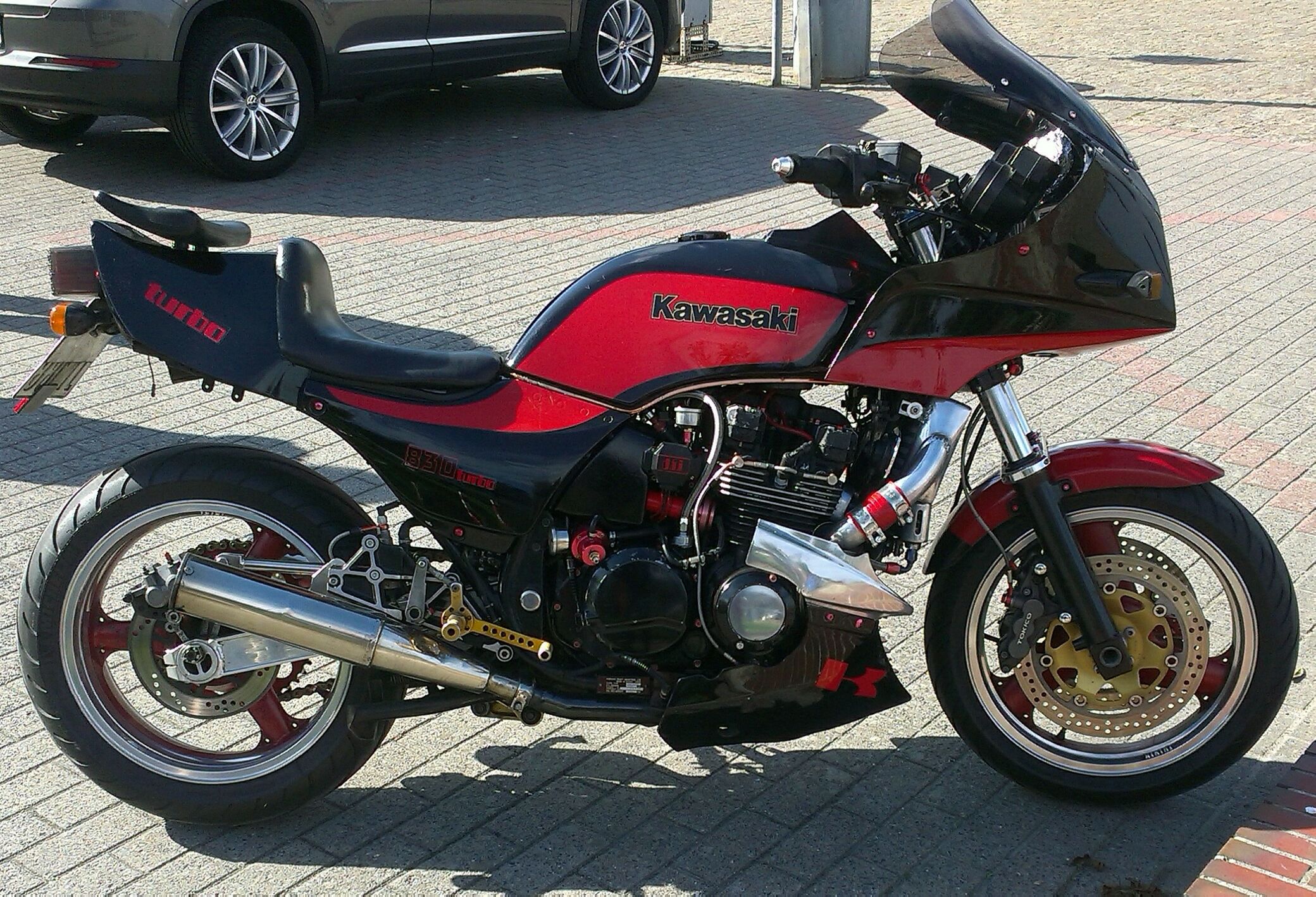 Turbo People Home Adam Wade Andy Fuhrmann Andy Morris Arlie Rauch Bob Blandin Christopher Caputo Colin Goodall Darren Thompson Dave Lancello Frans Van de Laar Gary Fania George Dillaway George Petri Gerry Desanto Gordon Williamson Horst die Wurstchen James Elliott Jeff Hood Jim Higgins Joe Pivonka John Altom John Marrs Jon Mayhew Jonas Jensen Justin Adams Justin Dinshah Justin Proffitt Kent Myers Lary Zagalik Lee Jackson Lex Bodelier Lorcan Parnell Marco Marchetti Marco Van De Velde Mark Evans Mark Scott Michael Harrison Mike Brown Mike Dehnert Mike Gitto Nick Smith Paul Jugowicz Pete Kroll Phil Hagel Richard Elcoate Richard Evans Richard Gerhold Robert Miller Robert Mitchell Rob Hilton Rob Kelly Ron Graf Scott Haralson Scott Schmidt Stefan Lindman Steve Klose Steve Smith Steve Turbolvr Tim Seymour Tom Zeller Troy Davis TurboTim Vince Wright Yoshihiro Omachi Zues VonBerger
© Turbo Motorcycle International Owners Association