| | | |
| --- | --- | --- |
| Turbo People - Paul Jugowicz | | |
---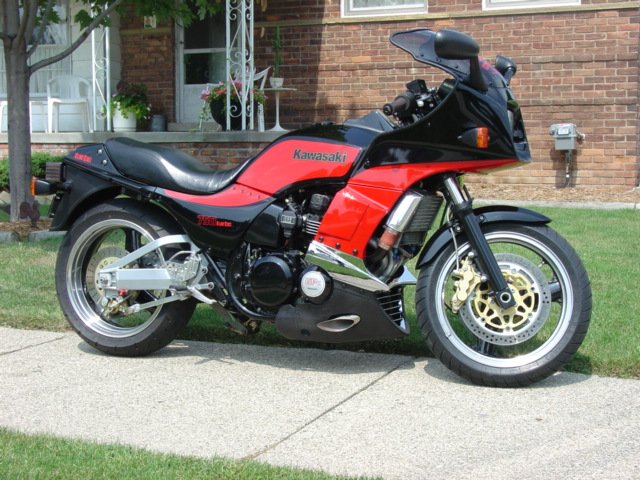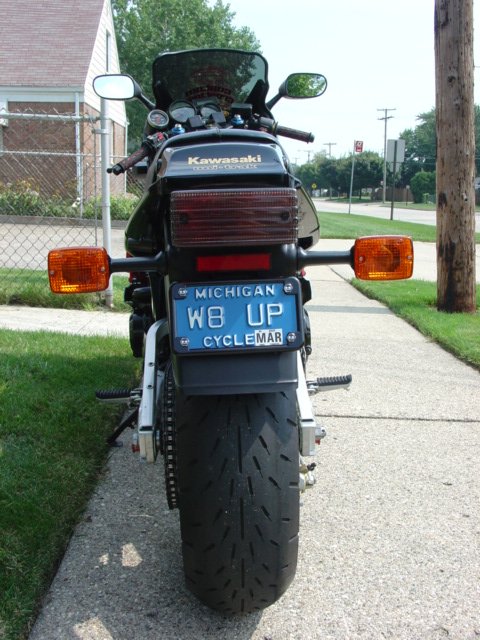 Paul Jugowicz sent in these pictures of his GPz750 Turbo. Obvious changes include an intercooler and removal of the exhaust system in favour of a dump pipe.
---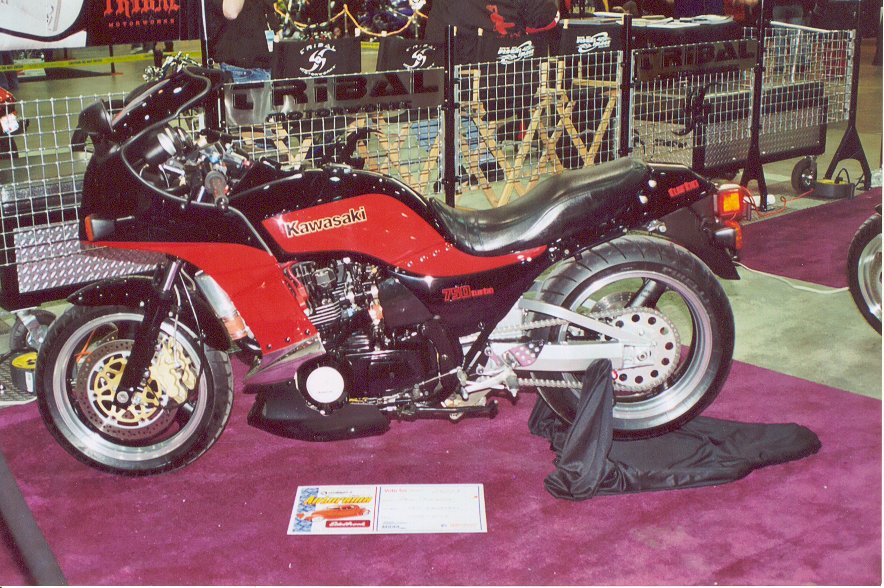 The picture is of the bike at the Detriot Autorama in 2004. The bike won 2nd place, edged out only by a virtually brand new Aprilla. Not bad for a 20 year old mount.
With the picture he sent in there was a long list of mods done to the bike.
These include:
- 880 cc Intercooled Stage 5 Turbo
- Copper Head and Base Gasket
- 1100cc Throttle Bodies
- Oversize Injectors
- Ported Spider Pipe
- Earls Oil Cooler
- Blow-Off Valve
- Lockup Clutch
- 2001 ZRX Kawasaki Forks, Front Rim and Brake
- Lockhart Steering Damper
- ZRX Master Cylinder
- Yamaha R6 Risers
- 2001 Suzuki Hayabusa Swing Arm
- 2001 ZRX Kawasaki Rear Rim and Brake
- Dale Walker Hole Shot Electric Shifter
- Adjustable Fuel Pressure Regulator
- 1985 Kawasaki KS500 Rear Turn Signals - Stator Rewound for Higher Output
- 1987 Suzuki GSXR 750 Rear Shock
- Dyna Shift Light And Ignition
- 6mm Offset Front Sprocket
- 2001 Kawasaki Z7 RS Mirrors
- 1998 Kawasaki ZX9 Footpegs
- Custom Stainless Exhaust
- Auto Meter Boost Guage
- Spigeler Brake Lines
- Polished Wheel Lips
- Pingel Fuel Valve
- Bosch Fuel Pump
- K&N Air Filter
- O2 Sensor
- Chromed and Smoothed Grill Below Aluminum Center piece
---
Adam Wade Andy Fuhrmann Andy Morris Arlie Rauch Bob Blandin Christopher Caputo Colin Goodall Darren Thompson Dave Lancello Frans Van de Laar Gary Fania George Dillaway George Petri Gerry Desanto Gordon Williamson Horst die Wurstchen James Elliott Jeff Hood Jim Higgins Joe Pivonka John Altom John Marrs Jon Mayhew Jonas Jensen Justin Adams Justin Dinshah Justin Proffitt Kent Myers Lary Zagalik Lee Jackson Lex Bodelier Lorcan Parnell Marco Marchetti Marco Van De Velde Mark Evans Mark Scott Michael Harrison Mike Brown Mike Dehnert Mike Gitto Nick Smith Paul Jugowicz Pete Kroll Phil Hagel Richard Elcoate Richard Evans Richard Gerhold Robert Miller Robert Mitchell Rob Hilton Rob Kelly Ron Graf Scott Haralson Scott Schmidt Stefan Lindman Steve Klose Steve Smith Steve Turbolvr Tim Seymour Tom Zeller Troy Davis TurboTim Vince Wright Yoshihiro Omachi Zues VonBerger
© Turbo Motorcycle International Owners Association