| | | |
| --- | --- | --- |
| Turbo People - TurboTim | | |
---
Round 4 The Allstar Nationals 28-30 August 2004
This was a critical round for TurboTim, after Round 3 I was in second place in my class "Supertwins Modified Street " STM 21. Barry Gregory was in third place and catching me on the points, for the 5-Round championship. I will keep it brief, during qualifying I did an 11.24 sec run on the second run, and was ahead of Barry, they he did an 11.10 sec run. I decided to change my Nitrous jets to one size bigger .20 instead of .18, to see if I could get my times down. I knew this was a gamble as I tried it earlier in the year and the bike misfired badly and went slower. I should have had two more runs so it was worth trying? I did the run and yes it misfired and I did an 11.70. So I quickly changed the jets back for the final qualifying run. What happened we were rained off, and straight into the elimination runs on Monday.
Because this also put me down a place in qualifying it meant I had to run against Simon, the class leader, instead of Peter, who Barry got and I had beaten in the previous round. Well Monday came, it was very windy, and they dropped bikes back to 1/8 mile, also not good for my bike. I decided just to go for it; off the line I went wheel spinning and me I could not select second gear! It was the third attempt that it went in !!! and needless to say I lost. Now Barry has taken over second place with 570 points, and I am third with 560 points! close call and all now down to the two day final at Santa Pod on the 2nd and 3rd Oct !!
Below is a picture of me from EURODRAGSTER.com in the run off area one handed and NOT a happy bunny. Turbo Tim is very active with the UK Honda Turbo Association. He also does their newsletter. Follow Turbo Tim on Facebook.
Watch this space: TurboTim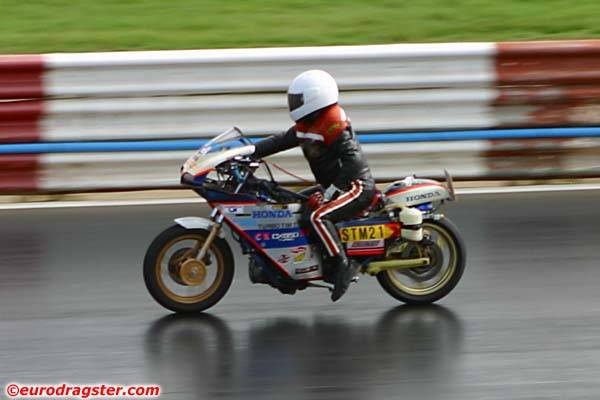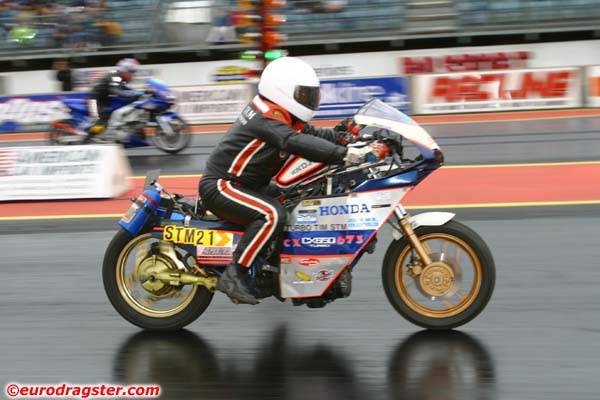 ---
August 2005
Turbo Tim is at it again. Here we see his latest project. A Turbo Trike!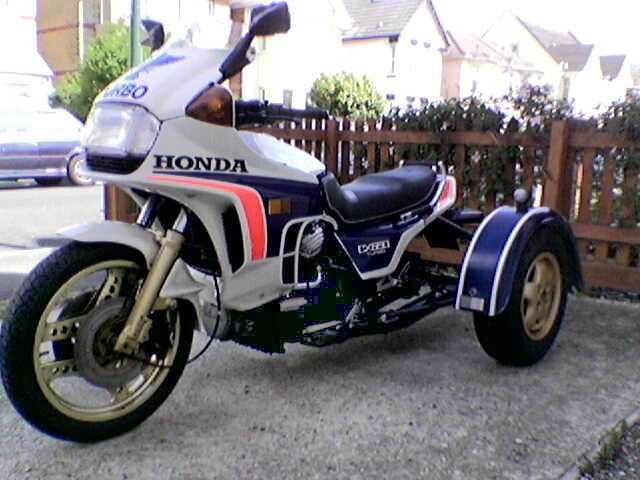 ---
Adam Wade Andy Fuhrmann Andy Morris Arlie Rauch Bob Blandin Christopher Caputo Colin Goodall Darren Thompson Dave Lancello Frans Van de Laar Gary Fania George Dillaway George Petri Gerry Desanto Gordon Williamson Horst die Wurstchen James Elliott Jeff Hood Jim Higgins Joe Pivonka John Altom John Marrs Jon Mayhew Jonas Jensen Justin Adams Justin Dinshah Justin Proffitt Kent Myers Lane S. Larry Zagalik Lee Jackson Lex Bodelier Lorcan Parnell Marco Marchetti Marco Van De Velde Mark Evans Mark Scott Michael Harrison Mike Brown Mike Dehnert Mike Gitto Nick Smith Paul Jugowicz Pete Kroll Phil Hagel R. Taylor Richard Elcoate Richard Evans Richard Gerhold Robert Miller Robert Mitchell Rob Hilton Rob Kelly Ron Graf Scott Haralson Scott Schmidt Stefan Lindman Steve Klose Steve Smith Steve Turbolvr Tim Seymour Tom Zeller Troy Davis TurboTim Vince Wright Yoshihiro Omachi Zues VonBerger
© Turbo Motorcycle International Owners Association