Turbo People - Arnon N.

Arnon lives in Israel. Here's a note he dropped on us -
Hi Bob and UKHTA. I'm very exited about the bike (CX650TD). I've never seen it in person. I only saw it one time in the motorcycle exibition and in the motorcycle magazines. My first bike was a Honda SS50 and this bike deepened my passion for motorcycles, until now. In 1978, I finished with the army and I had a chance to work with my first love, motorcycles, at the main Israeli Honda Dealer. At that time, I was young and new in the business and so enthusiastic. I liked the now "classic" bikes that I dealt with in those times.
Since 1989, I've owned a Japanese motorcycle garage. As the owner and the mechanical engineer who works on and takes care of my customers' bikes. I have a serious hobby in bike restoration and it started when I had my first challenge restoring a 1973 CB50. Then came a 1984 CH125, then a 1981 CX500D, then a 1982 VF750S, then a 1982 CB900F, then a 1978 GL1000, then I began to get crazy about the CBX1047Z Euro, the CBX1047 and the CBX1047A American style. My newest toy is a CX650T from South Carolina with 81 miles!
If you have some questions or wonder how I've done it, I'm willing to share some pictures of each restoration I've done, like before and after.
Regards,
Arnon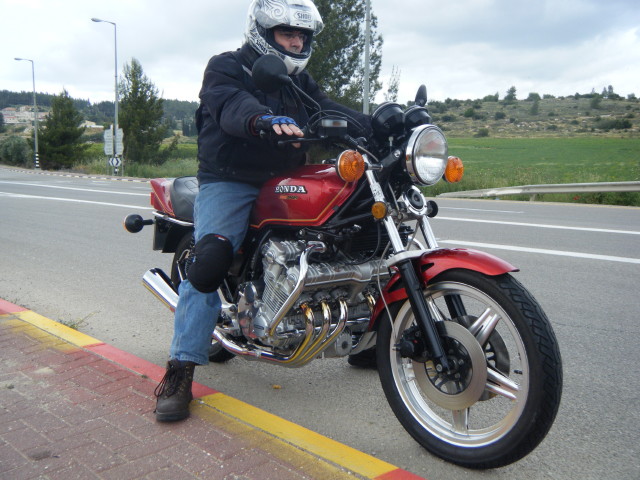 Adam Wade Andy Fuhrmann Andy Morris Arlie Rauch Arnon N. Bob Blandin Christopher Caputo Colin Goodall Darren Thompson Dave Lancello Frans Van de Laar Gary Fania George Dillaway George Petri Gerry Desanto Gordon Williamson Horst die Wurstchen James Elliott Jeff Hood Jim Higgins Joe Pivonka John Altom John Marrs Jon Mayhew Jonas Jensen Justin Adams Justin Dinshah Justin Proffitt Kent Myers Lane S. Larry Zagalik Lee Jackson Lex Bodelier Lorcan Parnell Marco Marchetti Marco Van De Velde Mark Evans Mark Scott Michael Harrison Mike Brown Mike Dehnert Mike Gitto Nick Smith Paul Jugowicz Pete Kroll R. Taylor Richard Elcoate Richard Evans Richard Gerhold Robert Miller Robert Mitchell Rob Hilton Rob Kelly Ron Graf Scott Haralson Scott Schmidt Stefan Lindman Steve Klose Steve Smith Steve Turbolvr Tim Seymour Tom Zeller Troy Davis TurboTim Vince Wright Yoshihiro Omachi Zues VonBerger
© Turbo Motorcycle International Owners Association